Whilst many young families seem to be making a move to the countryside, a surprising demographic is swimming against the tide… towards a new home that fits with the freedom and glamour of a capital lifestyle.
The trend for empty nesters selling up their houses and moving into stylish London flats is picking up pace.
Approximately 55,000 people downsize each year. Therefore, cumulatively releasing equity of around £7 billion; the numbers of 'older' buyers who have their hearts set on an active social life in easy reach of West End theatres, Kensington museums and Piccadilly shopping are firmly on the rise.
So how to make downsizing effective – whilst maintaining enough room for kids and grandchildren?
Multifunction is key – it's fair that open plan living areas will feature highly in downsizers' design schemes, and Smart furniture will make the most out of every inch of floorspace.
Dining
If you're London bound, based on the desire to eat sushi in Soho on a Sunday afternoon, then the 10-seater family dining table definitely shouldn't make the mover's van. However, the pangs of dinners-past and 'where will they all sit at Christmas' shouldn't mean its squeezed in for old-time's sake as the floor space taken up will be lost for good.
Our Eclipse extending dining table will happily size up to accommodate up to 8 people for get-togethers but will look superbly stylish as a bistro table for mid-week suppers.
Or, if you're hanging up your oven gloves except for VERY special occasions the Allwood and Multi coffee tables extend both UP and OUT to seat up to 12, and the glorious Goliath starts as a console at just 43cm deep and can expand (and expand…..) to seat up to 12 (yes, really).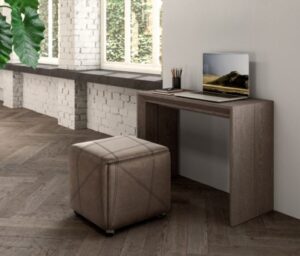 Sleeping
Naturally whilst you'll be run off your feet in the new whirl of activities, you'll still want to be able to welcome friends and family to stay.  You need not be concerned – it seems most people see an uplift in interest in a spare room that overlooks the rooftops of the capital rather than the same-old village view.   Being the cool grandparent who hops the kids onto a double decker to London Zoo at half term holds major appeal too.
To make the most out of your space for sleeping the multifunction buzzwords are comfort and storage.
First up, sofa beds MUST be comfortable for day-to-day use, and as beautiful pieces of furniture in their own right.
The Metro Sofa bed's uniquely beautiful modern design is combined with the deepest, most luxurious mattress ever seen on a sofa bed.  So much so that it could happily be used as your main bed every day of the year.
Whilst the regency look of the Paris works in classic or modern interior schemes, its amazingly comfortable, and at a perfect height for use as your main sofa.  The bed is engineered with wooden slats and features a beautifully sink-into-able mattress.
Bedding hanging around the living room will get on everyone's nerves and shorten stays.  It's vital to be able to pack away duvets and pillows during the day so that the room is useable once more.
All our sofa beds arrive in modular form ready to be assembled by our experts, so no worries about measuring doorframes or lift width – you can focus on style with no compromise for practical delivery matters!
Working
One word that isn't high on relocator's lists is retirement.  As downsizing is coming along much earlier in life in order to facilitate an active social life, there's no space for carriage clocks on the stylish new mantels of this crowd.  Of course, the need to work flexibly at home has never been more relevant and the design conscious choices described above will ensure you aren't perched on the end of the oversized old dining table or hunched over on a spare bed, which the new yoga regime could never allow.
Zoning open plan space is particularly important for home/ work balance – and closing the metaphorical door at the end of a day is equally key.  Our 'Little Home Office' has a footprint of just 0.09 m² (that's about the width of your hand!) and can turn any space into a stylish and comfortable home office for the day, and yet because of its fold down desk it's so compact you'll forget its really there once you're done.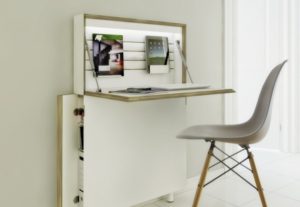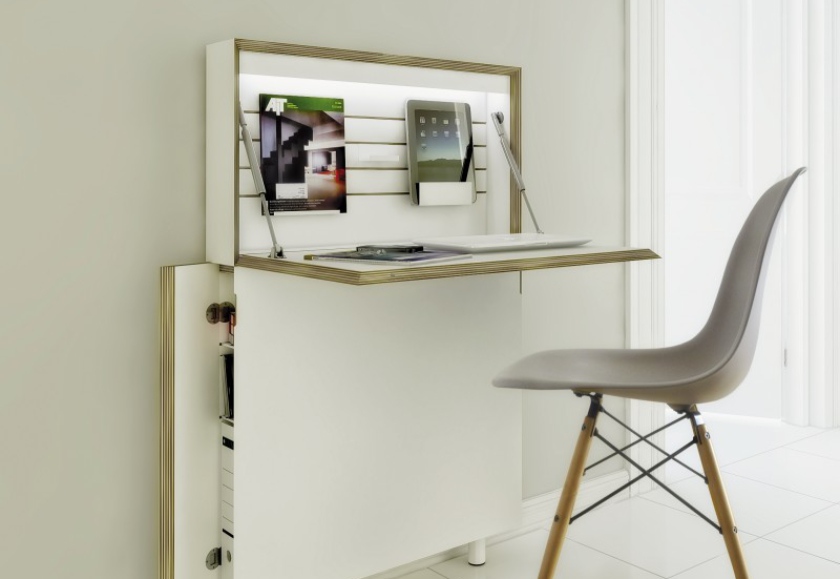 See for yourself
Even if we say it ourselves, most people can't believe the design and functionality of our furniture.  We welcome you to come and take a look (and play!) for yourself.
Our Swiss Cottage store is super convenient from the Jubilee and Metropolitan lines – call in anytime or make an appointment with our experts who can demonstrate all our multi-functioning design pieces and how they'd fit into your fabulous new pad.  Or alternatively Our Hertfordshire ShowPod is just outside Watford city centre – come and tell us about your plans there.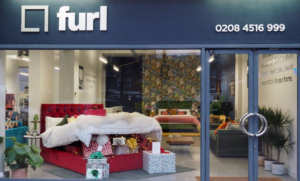 Tempted to hang up the lawnmower for good?  Check out a real-life experience right here.
We'll see you at the Serpentine.