We're delighted to announce that we now stock Farrow and Ball paints at our showroom in Swiss Cottage. One of the leading UK paint suppliers, and a firm favourite here at Furl.
When buying furniture that is made to order, you can select any fabric that you'd like it to be made in. But it's not just about choosing a fabric, it's about looking at the room in it's entirety.  What colour might you want to paint your walls? Do you want the fabric of the furniture to then complement that colour, or contrast against it?
And now not only will our expert showroom team talk you through our range of products, but they will also be able to help you choose fabric and paint colours to create the perfect room scheme. So you can walk away from Furl with a brand new room.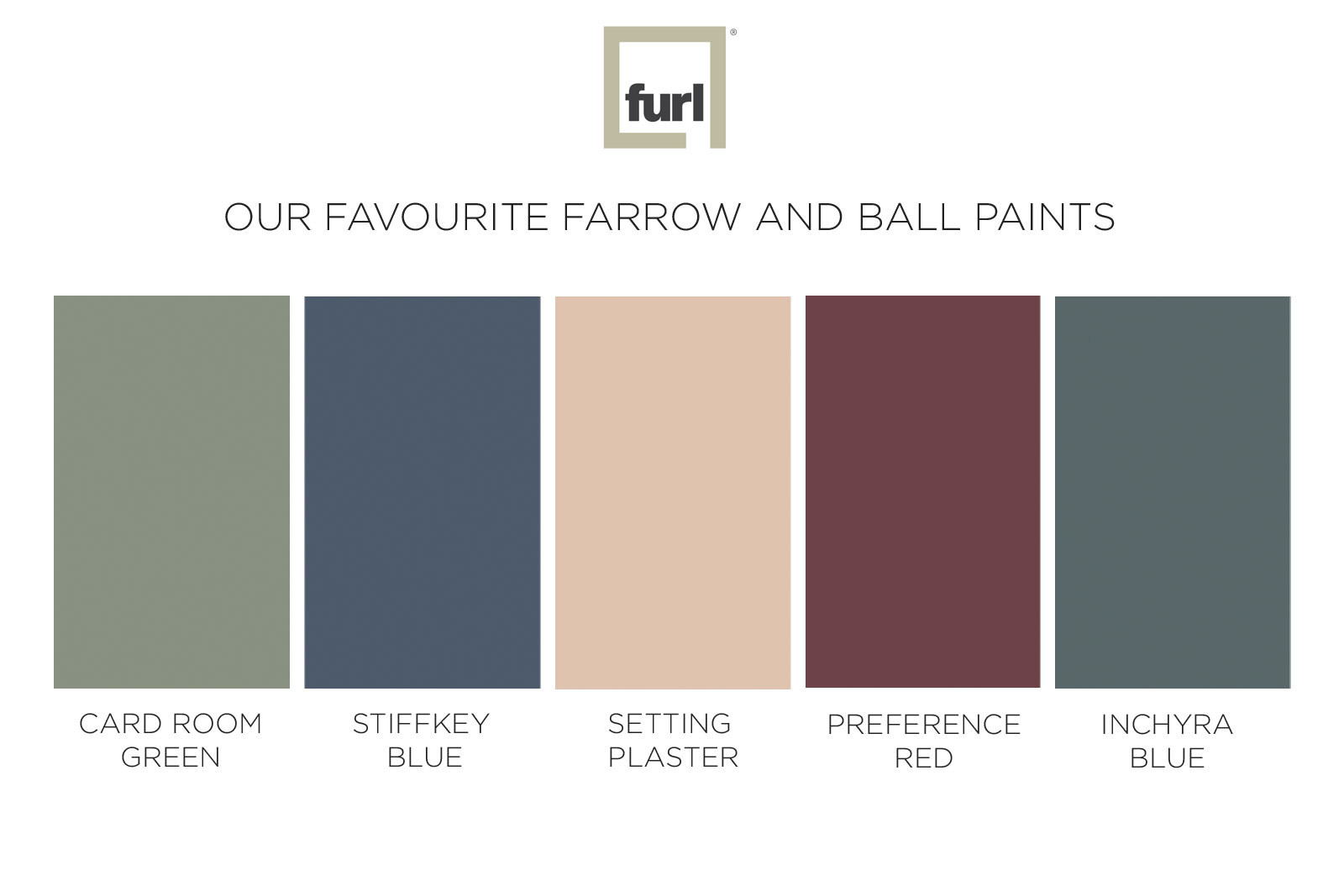 Our top five Farrow and Ball colours
Despite loving all of the Farrow and Ball colours, these are our top five favourites right now.
Card Room Green – A beautiful dark grey green, that is perfect for those that want to add an understated pop of colour. Without it being too strong. Pair with Lime White for a contemporary feel.
Stiffkey Blue – This inky navy is a strong, dramatic deep shade of colour that helps to add drama to any room. When used in brighter larger rooms, it will appear more blue. Perfectly pairs with Shadow White or Ammonite for contrast.
Setting Plaster –  Hugely popular, this dusty plaster pink is named after the walls in newly plastered houses. Pairs well with Tallow, and other quirky interior features like patterned tiles.
Preference Red – This really deep, rich yet modern red is designed to work alongside all of Farrow and Balls red based neturals. Particularly striking when paired with sulking room pink.
Inchrya Blue – A dark blue grey, this moody hue can me more grey, blue or even green depending on the light. A great injection of colour for a contemporary home.
Instagram accounts we love that show off some of our favourite colours
@frowhome shows how being bold with colour can definitely pay off, Preference Red taking centre stage in their living room.
Aptly named, @inchryahouse uses Inchyra Blue for both woodwork and walls creating a cosy and inviting living room.
@deecampling complements Setting Plaster perfectly against a roll top bath and retro white tiles.
(You can see both Card Room Green and Stiffkey Blue on the walls at our Swiss Cottage showroom when we reopen in December)
The difference between the indoor farrow and ball finishes
Estate Emulsion – The most popular finish for Interior Walls and Ceilings with the Signature Chalky, very matt finish
Estate Eggshell – Used for Interior Wood and Metal, with a very durable silk finish
Modern Emulsion – For Interior Walls and Ceilings, washable and with a mould resistant finish, suited to bathrooms, kitchens and busy areas
Modern Eggshell – Used for Interior Wood and Metal, with a durable mid sheen finish suited to staircases, floors and kitchen cabinets
If you'd like advice on which fabrics work best with certain Farrow and Ball colours, we'd be happy to help.