Installing a headboard is easier than you might imagine, and in this blog, we're going to take you through how to do it step by step.
What are the different types of headboard?
Headboards come in a range of sizes and materials with countless designs to suit all tastes – but when it comes to how they're attached to the bed, there are just three types. 
Wall-mounted headboards 
Just like the name suggests, wall-mounted headboards are fixed to the wall not the bed. This is a popular method for using with over-sized headboards that are designed to be much wider than the bed itself (sometimes referred to as a hotel headboard).
Frame-mounted headboards
Frame-mounted headboards are attached to the bed itself using the fixings that come with it. You probably haven't noticed them because they are often covered over with fabric, but most beds come with pre-drilled holes for adding a separate headboard later.
Free-standing headboards
This type of headboard doesn't need fixing to the bed frame or the wall. Sturdy enough to stand alone, these headboards are usually quite deep with storage built into them.
How to install a frame mounted headboard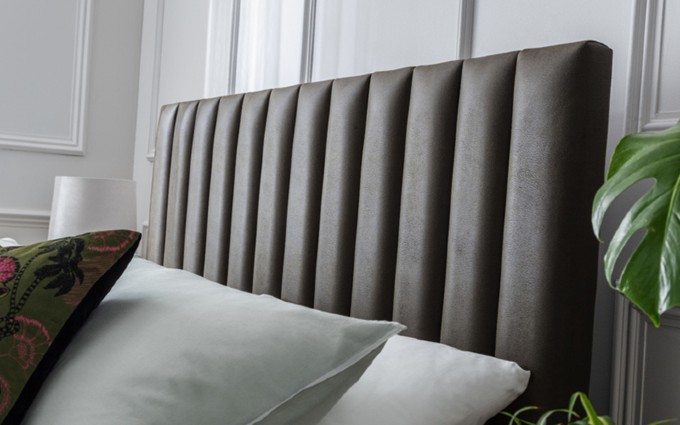 You might be surprised to learn that the only thing you'll need to install your frame-mounted headboard is a screwdriver – and this step-by-step guide.
1. Attach the struts
Frame-mounted headboards come with two wooden struts that need to be fixed securely in place before you can begin. Screw the struts to the back of the headboard using the pre-drilled holes as a guide (most headboards come with their own screws).
2. Locate the holes
Your next job is to locate the holes at the end of your bed. The holes will be covered over, but you should be able to find them by running your hand over the material.
4. Screw in the bolts
Once you've located the holes, push the bolt (that comes with your headboard) through the fabric and screw it into the fixings inside. You should leave just enough thread visible to slide the wooden struts over it.
5. Add the headboard
This is where you might need a second person to help you, because now you've got to slide the headboard's wooden struts over the bolt screws in the bed. Check the positioning and when you're happy that it's straight, finish by tightening the bolts.
6. Adjust the height
You can adjust the height later by loosening the bolts and sliding the headboard up and down until you've got it just right. Your headboard should sit just below the top of the mattress so you can't see a gap.
If you've made it to step six, then congratulations – you've successfully installed your new headboard!
Can you put a headboard on any bed frame?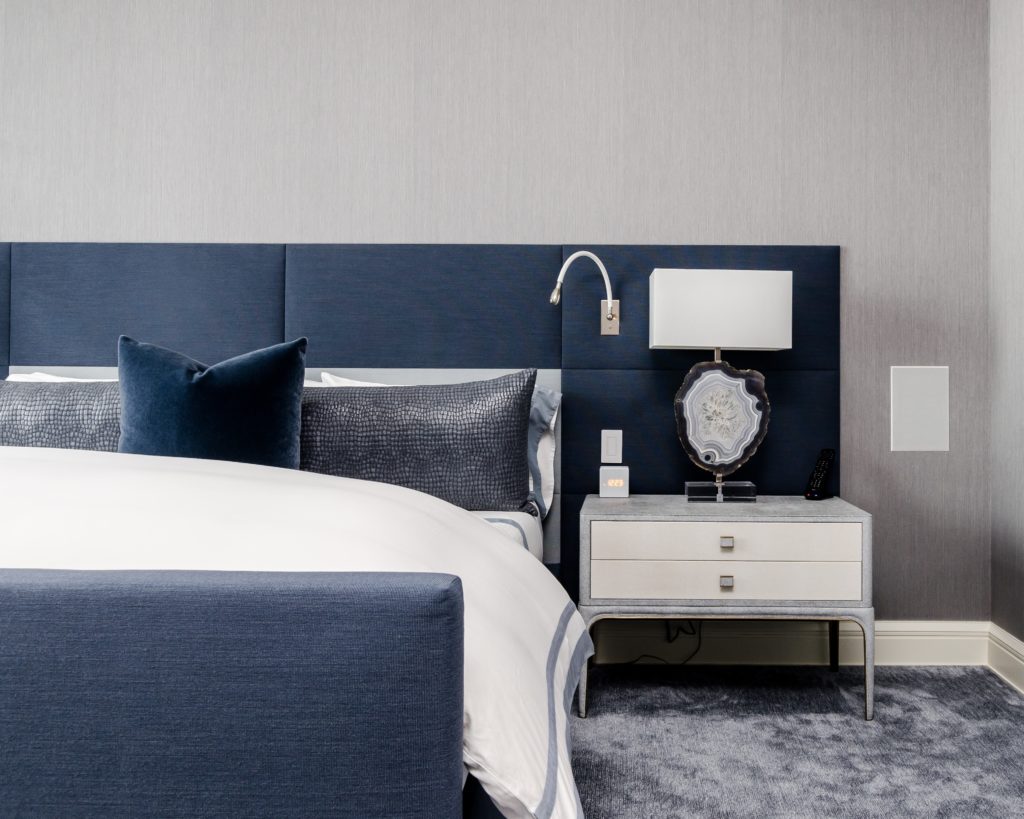 You can put a headboard on any bed frame, as long as they are compatible sizes. For example, if you have a standard double bed (4'6″), you'll need a double headboard to fit this sized bed.
Our high-quality headboards come in eight sizes, but we also offer a bespoke service for customers who want something taller or wider than the standard headboards.
If you want your headboard to stick out beyond the edges of your bed then you'll need to mount it on the wall and not the bed frame. There is an option for this on our website – simply check the box 'mount headboard to wall' and we'll send you the relevant fixings.
Should your headboard match your bed frame?
The headboard is the focal point of your bed, so when it comes to choosing a design don't be afraid to get creative. If you want to take your bedroom's interior design up a notch, consider using different materials for your headboard and bed frame.
As long as they still fit together, there's nothing stopping you from putting an upholstered headboard with a wooden bed frame, or how about a stand-alone wooden headboard with a leather frame.
At Furl, our premium headboards are made from scratch, so you can choose your design, fabric, and colour before it goes into production.
We love the Mondarin headboard inspired by the Dutch artist, Piet Mondarin, who is well known for his paintings of geometric shapes in primary colours. But unlike Mondarin's fairly limited colour palette, this headboard comes in hundreds of colours.
Why do you need a headboard?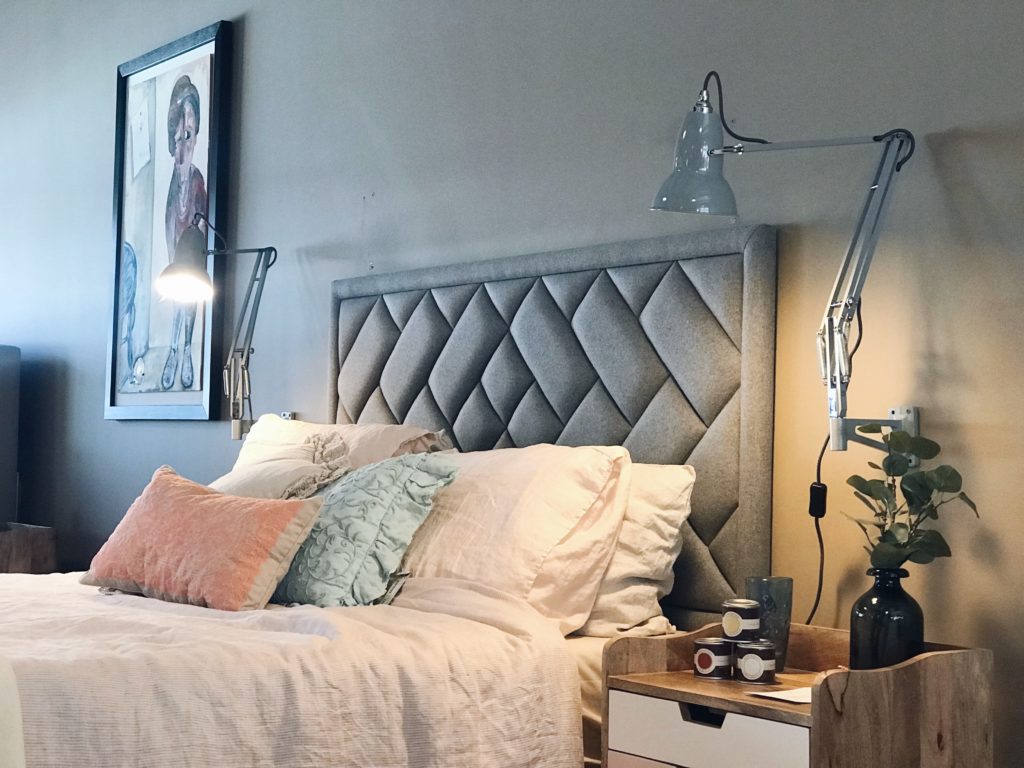 Aside from providing your bedroom with an interesting design feature, premium headboards also serve a practical purpose.
It supports your back when you're sitting up in bed (and it's comfier than sitting against a cold, hard wall).
It protects your wall – it's a lot easier to clean a headboard than re-paint a wall if it gets grubby where you've been sat.
It stops your pillows from slipping between the end of the bed and the wall.
The great thing about having a separate headboard is that if you decide to redecorate, it's cheaper to replace than a whole bed.
Installing a headboard – the key takeaway
Frame-mounted headboards are easy to install, and they usually come with their own fixings. All you need is a screwdriver and a second person to hold it in place while you tighten the bolts.
If you want advice on installing your headboard, we're here to help – contact us today.