Big furniture purchases don't happen on a very regular basis and so if you are a little bit out of practice in the large furniture buying department, here is a guide on how to measure your space for a storage bed. You not only need to think about where the bed will be going, but also about access, so the bed fits the space like it was meant to be no matter what size the room.

How big?
Everyone always wants to fit the largest sized bed they possibly can into their bedroom, as it is of course the place we spend almost a third of our lives. Be mindful though, especially if you come to visit the beds at our showroom, because our ceilings are so high it can make them seem a little smaller than they might look in your room.
Write down all of the dimensions from our website
Be absolutely sure to measure out this space in your bedroom before making a purchase.
Top tip: The best way to measure is by masking taping the size of the bed out onto your floor.

Ideally you would like to have at least 50cm on either side of the bed, however if the space is tight you could just about settle for 30cm on one side (or both if you have to!).
Top Tip: When measuring, make sure you can still open any doors without them bumping into the bed.
Don't panic if your space isn't built yet! Send through a floor plan and one of our team will look at it for you.
Our storage beds are available in both standard British and Continental sizes. We make the frames as small as we can and as close to the mattress size as possible. Here are the measurements for both the mattresses and the frames in each size. Everything is made to order, so if none of the sizes below work for you, get in touch with us and we can make a bespoke frame and mattress to suit.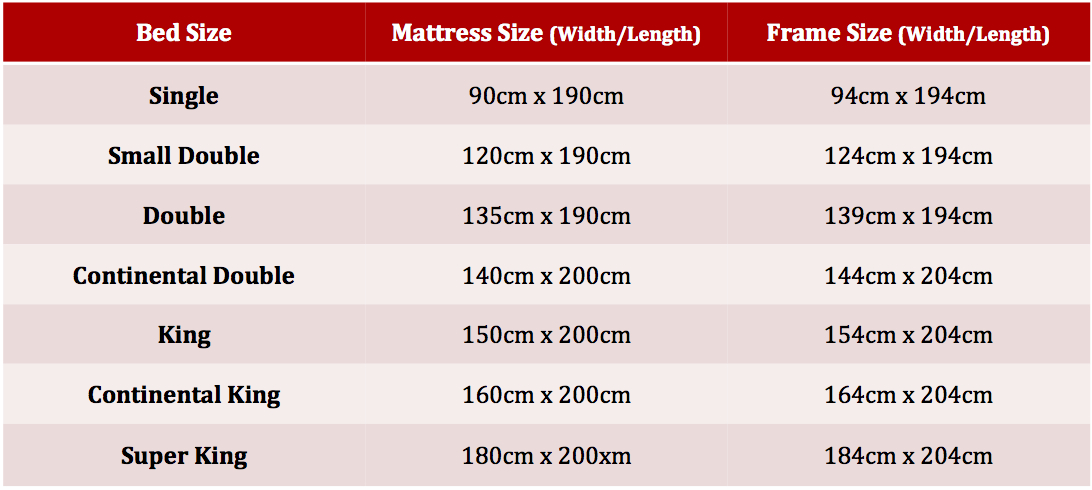 Of course if you decide to add on a headboard the frame size might become a little larger. You can have a headboard two ways, either Integrated or Non-Integrated. Non-Integrated will add nothing more onto the measurements, however if you do decide to go for an Integrated headboard, most will add on 6cm to the length apart from the Horizon which is a little chunkier and will add on 10cm more.
Top Tip: If you are trying to save space, or your space is limited, choose a Non-Integrated Headboard or no headboard at all.



Measuring Access 
Once you have chosen the size of bed that will fit into your room, measuring the access is of course is the next thing to do. However we like to make our deliveries very simple and so our Storage Beds at Furl are delivered in sections and assembled on site by our very own delivery team.
Never the less, measuring all of the access points to the room is still important, especially if you think your space is a little bit tricky.
Stairwells – How much height do you have? Do you think that there will be enough space to manoeuvre the parts around this space?
Doorways – Is the height of your door no smaller than the length of the bed? If it is then make sure the access is sizeable to manoeuvre the item in the other way.
It is important to consider any additional factors that may eat into your space, such as light fittings and radiators, and any pictures that may need to be taken off the walls during delivery.
Top Tip: The largest part of the bed will be half of the mechanism (so half the mattress size) unless you have ordered a headboard in which case this will be the largest part. Remember, the mechanism is only 4cm deep and the headboard usually only 6cm deep.
Perhaps you have a spiral staircase, or a very low ceiling with a narrow door to enter through. Please don't hesitate to get in touch, but for a bit of reassurance we have not been beaten yet. We ask for you to remove your old bed before we arrive. Our delivery team will bring your storage bed into the room, assemble it and take away all of the packaging with them.