The Paris sofa bed turns heads all day long at our London showroom. This striking piece has captured the attention of those searching for a modern chic aesthetic. We want to share with you how we create this modern elegance interior look. On the one hand, it says enchanting beauty. On the other, it says liveable and practical. But how can a sofa bed be so beautiful but functional too? This is how…
THE SOFA BED THAT EVERYONE IS TALKING ABOUT
The Paris is designed to be slept on every night (yes, really!) This luxury sofa bed offers a sleep experience that will impress your guests. With a 12cm mattress in your choice of Memory Foam, Pocket Sprung or Reflex, your guests will definitely be missing breakfast. Tall legs on the Paris mean its supremely comfortable as a sofa but the mattress will also be a proper bed height.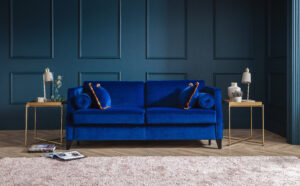 Whilst this sofa is practical and great for sleep, it is also enchanting, beautiful and oh so chic! The Paris is a great statement piece, but it isn't all you need to create a modern elegance aesthetic. Here's how to achieve this interior scheme…
MODERN ELEGANCE INTERIOR DESIGN SCHEME
Let's start with the walls. A dark blue or green adds depth and colour instantly without it being bright or too much. We know this is brave and if you need inspiration, check out Farrow and Ball's colour consultancy. Texture is important. A rich velvet lends itself well to this aesthetic. We shot our Paris in Linwood Moleskin in Sapphire. Metallics weaved into your space in the right way can offer a modern lift. If metallic gold isn't for you, you could try black.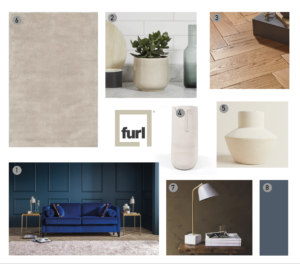 To soften the room, we can add some finishing touches. We don't want the room to look like a show home. A soft and neutral rug is a great way to add a touch of comfort and make your space look more liveable. House plants are the perfect way to bring a space to life and make it look inviting. Not only do house plants create interest but they also improve the air quality in your home. Finally, pay attention to the lighting- table lights are a subtle option.
SO HERE'S WHERE TO BUY EVERYTHING
Paris is a magnificent city and this sofa bed captures the essence of it. We can't all live in Paris but we can make our home look like we do.