We have a wonderful new range of comfortable dining chairs available to try and buy at our showroom in Swiss Cottage. If you've been following Furl for a while, then you will know that we specialise in multifunctional space-saving furniture. And one of those products that helps to save and create space in your home are our expanding and extending dining tables.
Until now we've only had a range of folding dining chairs to choose from. But given that our 4X4 Table and TwoFold Table seat 6-8 people in their smallest size. We thought that it was about time we added a range of beautiful comfortable dining chairs to our collection too. So here's everything that you need to know about them.
We've added not one, not two, but EIGHT brand new comfortable dining chairs to our range. Of course the best way of testing out a dining chair is to actually sit on it. But for now, we'll go through all the details, whilst you check your diaries to see when you can visit the showroom to test them.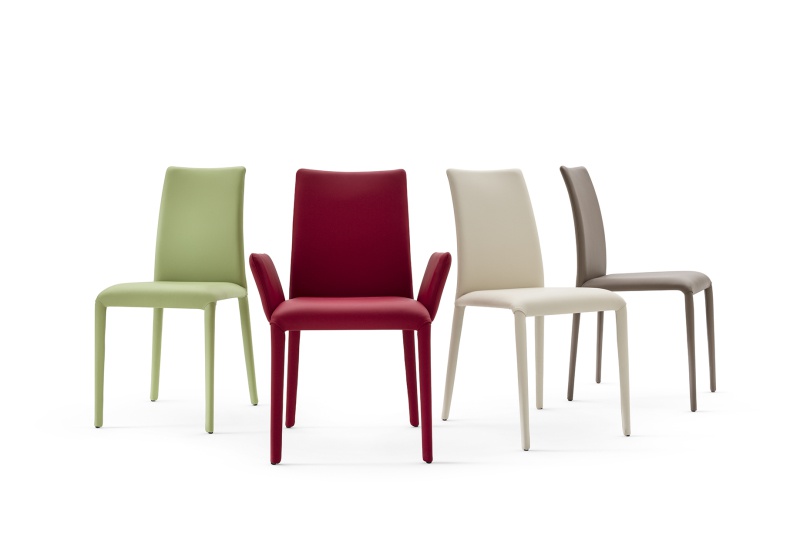 The Ada
Ada is our best value and most compact comfortable dining chair. It's simple shape works with every interior. Sleek in design, the whole chair is completely covered in the material you choose. Whilst the wider seat and flexible backrest increase the comfort. This chair will move with you from home to home and never go out of fashion.
Prices from £195

The Agata (*our most popular of the comfortable dining chairs)
Although Agata is one of our more expensive comfortable dining chairs, it's also one of our most popular. The design is really something special, particularly the Agata Diamond, which has a beautiful quilting detail on the back of the chair. The stylish design doesn't just look good though, as the backrest widens at the shoulders, it's incredibly comfortable to rest against.
Prices from £495

The Aria
The Aria looks comfortable and inviting, whilst the contrasting border gives it that modern design edge. The soft shape allows for great seat comfort and is also available with a higher back for those hoping for a little more support. This chair is perfect is you are looking to combine style with comfort.
Prices from £350

The Asia
The Asia is actually a mini collection of chairs, and has three different variants – Asia, Asia Edge and Asia Diamond. Every single design is unique, yet uses the same curved seat and back for extra comfort. Asia has a unique padded cushion to the seat and back, Asia Edge has a beautiful contrast piping detail connecting the seat to the back and Asia Diamond has diamond quilting across both back and seat for that extra stylish look. All designs can come with a higher back height too!
Prices from £295

The Altea
Altea is our highest backed chair offering the most amount of support, yet doesn't compromise on style. The shaped back with either blanket edge stitching, or more detailed horizontal stitching, follows the shape of the body. Just like the Ada, this comfortable dining chair is covered from head to toe in the material you choose.
Prices from £350

The Naika
The Naika comes both with and without the arm, with two back height options. It's design is discreet and understated, yet perfectly suited to a minimalist design scheme. Available in soft leather, synthetic leather and fabric in a vast range of colours, the craftsmanship and detail of this chair stands out against any background.
Prices from £395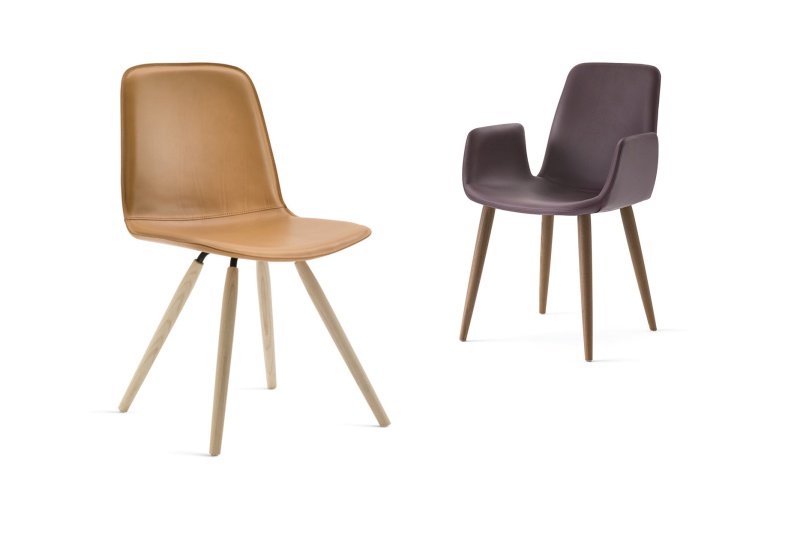 The Lilly
The soft and curvaceous shell shape design of the Lilly is both inviting and extremely comfortable. The unique curved wooden panel of this chair really embraces the need for comfort in a dining chair, and looks particularly beautiful in its armchair version. Available with both metal and wooden legs, this chair can be designed to suit every interior style.
Prices from £495

The Shila
Just like the Asia Chair, Shila is a collection of both comfortable dining chairs and stools, available both with and without arms. It's unique, contemporary design has the additional exquisite zip detail down the back of the chair, with a wider angled back for extra comfort.
Prices from £450
As like all of our products, our comfortable dining chairs are also made to order. So you can select from a number of different finishes and colours. Including easy-clean fabrics, leather and synthetic nubuck leather.
The fabrics and leathers in all of their colours can be seen at our Swiss Cottage showroom. Finding comfortable dining chairs isn't always easy, but if you make the trip, we can promise you won't be disappointed with ours.