Have you ever wondered what happens to all the wool garments and material discarded by the fashion industry at the end of the their life?  We're talking abut the unsold clothes that have been through the shops, outlets and bargain basements stores are often put into land fill, a tragic end to good usable products.
As a manufacturer of upholstered furniture we are responsible for the proper and disposal use of the fabrics we use, we're pretty good and our modern manufacturing techniques cuts waste down to a minimum, the waste that is left over is sold on eBay and other shopping platforms to people who love to make crafts etc.  We like to think we're doing our little bit for the environment and encouraging creativity beyond the first use of the fabric.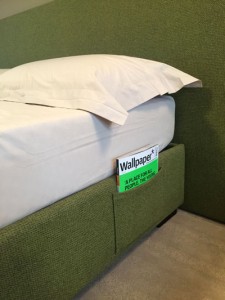 We've always loved wool fabrics, they look and feel fantastic on our beds and sofa beds, best of all wool is one of the most sustainable of all fabrics and has very little impact on the environment so when we came across a fabric thats made from recycled wool salvaged from the fashion industry we got very excited.  Having made some products (now on display at our showroom) we've been very impressed with the quality as it give a beautifully soft finish with a tactile touch which is really hard wearing.  The range of colours is impressive too.  The fabric is made at a mill in Prato, Italy a district most famous for textiles which is also happens to be the most eco friendly in Italy.
Leaf by Kirby Design, is available on all our upholstered products, you can see the full range of this and other sustainable fabrics at our London showroom.