This post was first published in 2020. We've updated the information in this post for 2022 trends.
Seeing as we are well on our way into 2020 now, here are the bedroom design trends that all of the interior designers are using, and that you obviously also need to know about! The most important thing to remember about trends, is that you don't have to like them all. But we think there are some brilliant bedroom design trends this year, that we just know you are going to love.
We've seen a few big style trend shifts throughout the beginning of 2020, and so let's start with those:
Sustainability
The world is changing, and peoples views on how we treat it are becoming more eco conscious. This year, people will shop more sustainably than ever before. Buying from local retailers (like Furl) and buying products made from recycled materials.
Maximalism
We're not entirely sure that this word truly exists, but it's the complete opposite of minimalism. One of the big style trends for this year is to have a lot of organised clutter. Lots of artefacts, lots of cushions, layered rugs. Perhaps a blind as well as curtains. A bedspread topped with a throw. Plenty of colour, and plenty of pattern!
Wicker and Wooden
You may have noticed that the number of wicker items you've seen on the shop shelves have doubled in the last couple of months. And this trend really is going to take off. That mixture of wicker and wooden is set to be a big bedroom design trend for 2020. Walnut works particularly well with wicker, and so we expect to see a lot more walnut bedroom furniture.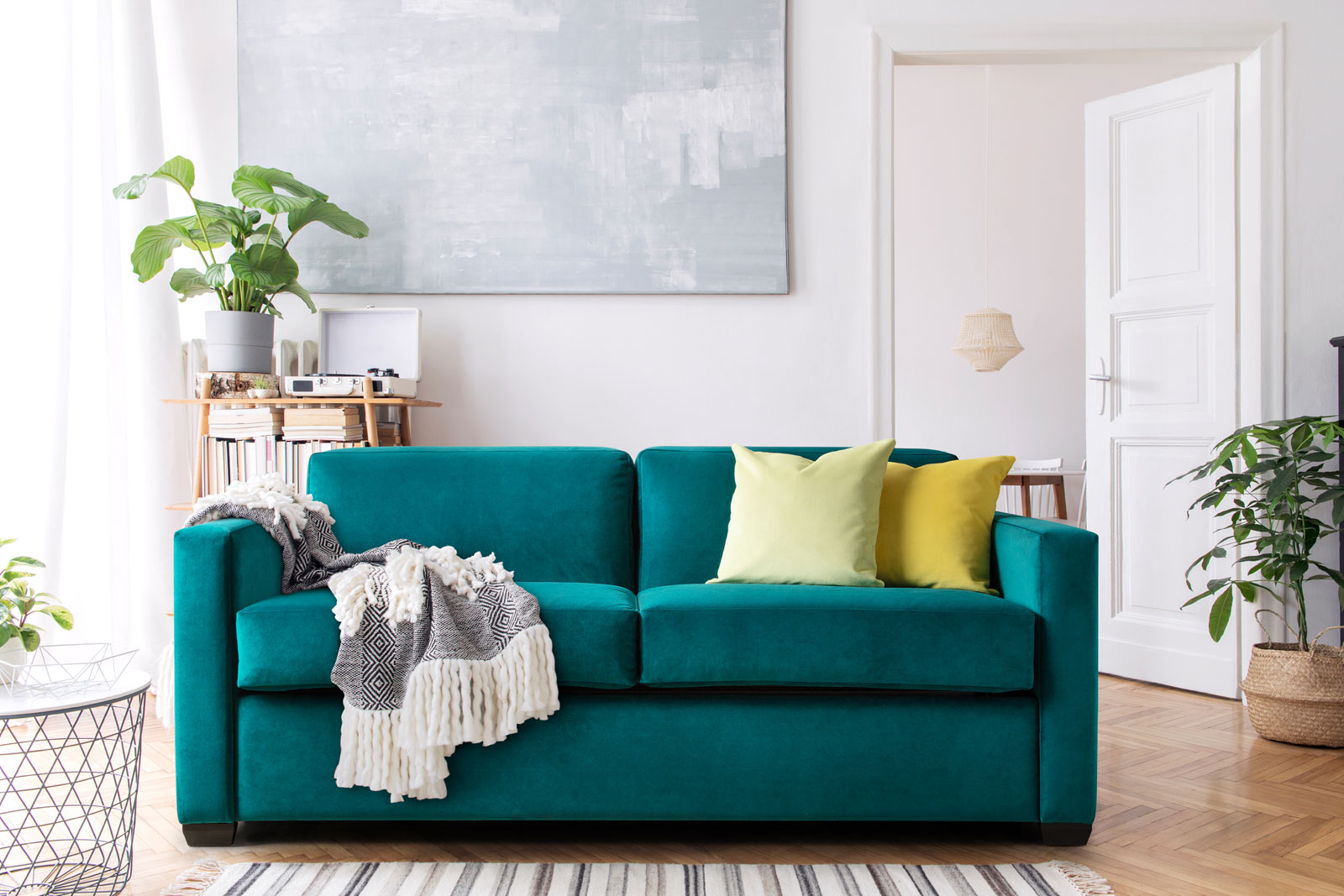 So what fabrics should you be looking at?
Traditional Prints are back – but only if used in modern ways and modern spaces. One of our favourite printed fabrics right now is the new range of Omega Prints from Linwood. They've taken some true traditional prints, and with a burst of colour, have transformed them into a range of really funky fabrics.
With the earthy tones making a bit of a comeback this year, so are those earthy textures. Large weaves and soft wool are both going to be trending this year. Warwick have a great new textured fabric called Edinburgh. And Villa Nova have launched a really earthy collection called Palma. This particular shade – Palma Chrome – is the perfect combination of colours for that earthy tones trend.
More colour, than specific fabric, but green in going to be big in the bedroom design trends world this year. Our favourite green velvet, woven and leather fabrics are: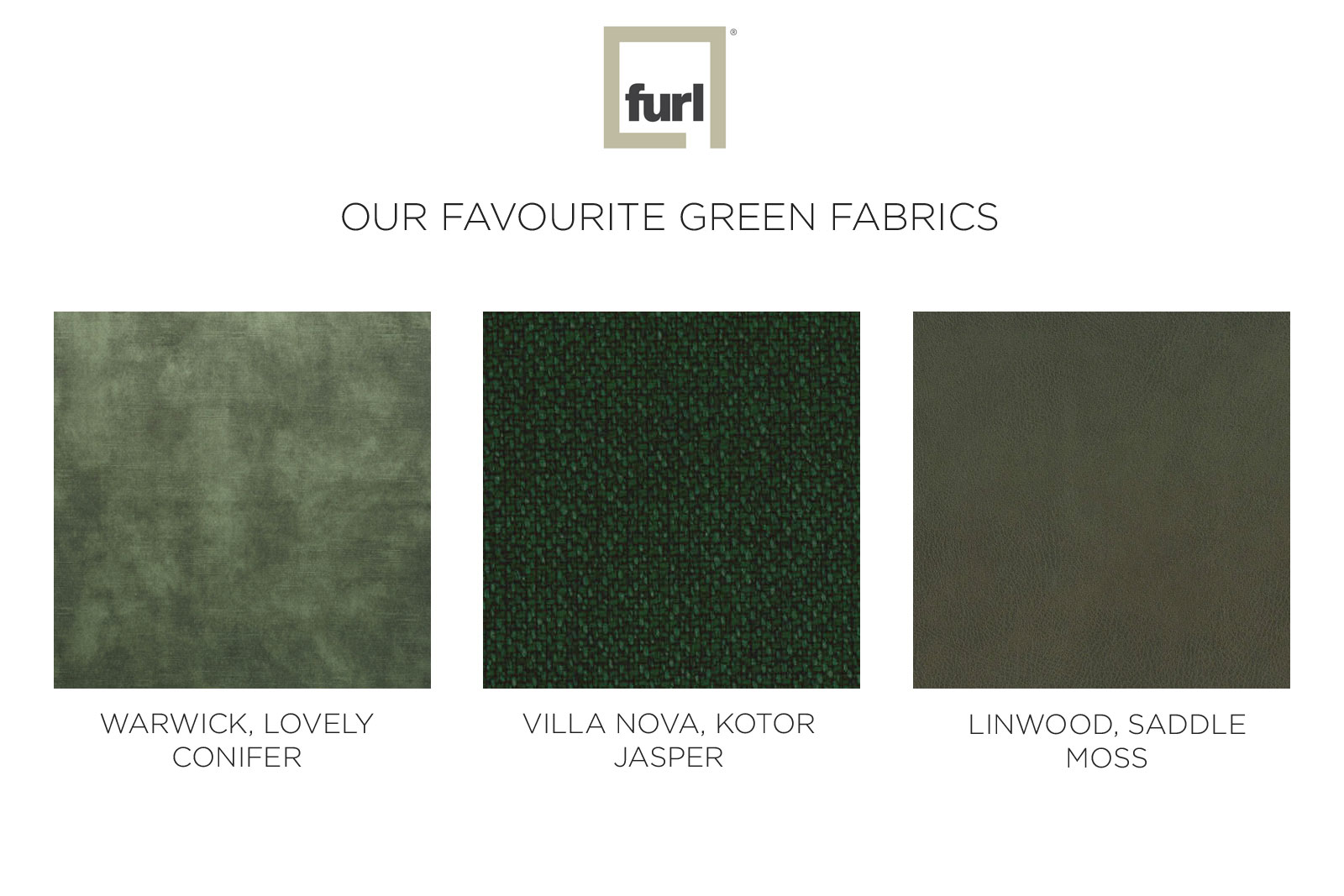 And talking of green, here are the other colours to watch out for in 2020's Bedroom Design Trends.
Blue is the new Grey.
Which will come as great excitement to all those that really hate grey. Finally you can introduce a little bit of colour, and still remain on trend. There is no particular shade of blue being used more than any other. But we particularly love this midnight blue shade 'Atlantis' from our Linwood Omega fabric range.
Think Pink
Pink is going nowhere. Now I know it's a controversial colour, and not everyone likes it. But the main reason for that is not actually knowing what to pair with it. There are now some lovely shades of dusky cement coloured pink. Like Farrow and Ball's Setting Plaster, which would be perfect for bedroom walls. In fact, Rebecca Wakefield just transformed blogger Lily Pebbles bedroom, which features Setting Plaster on the walls.
There are obvious pairings with pink, like maroon, or burnt red. But pink also pairs strangely well with green too. Ticking off two trends in one! Although when we say pink, we mean blush, muted tones of pink. Not Barbie colour!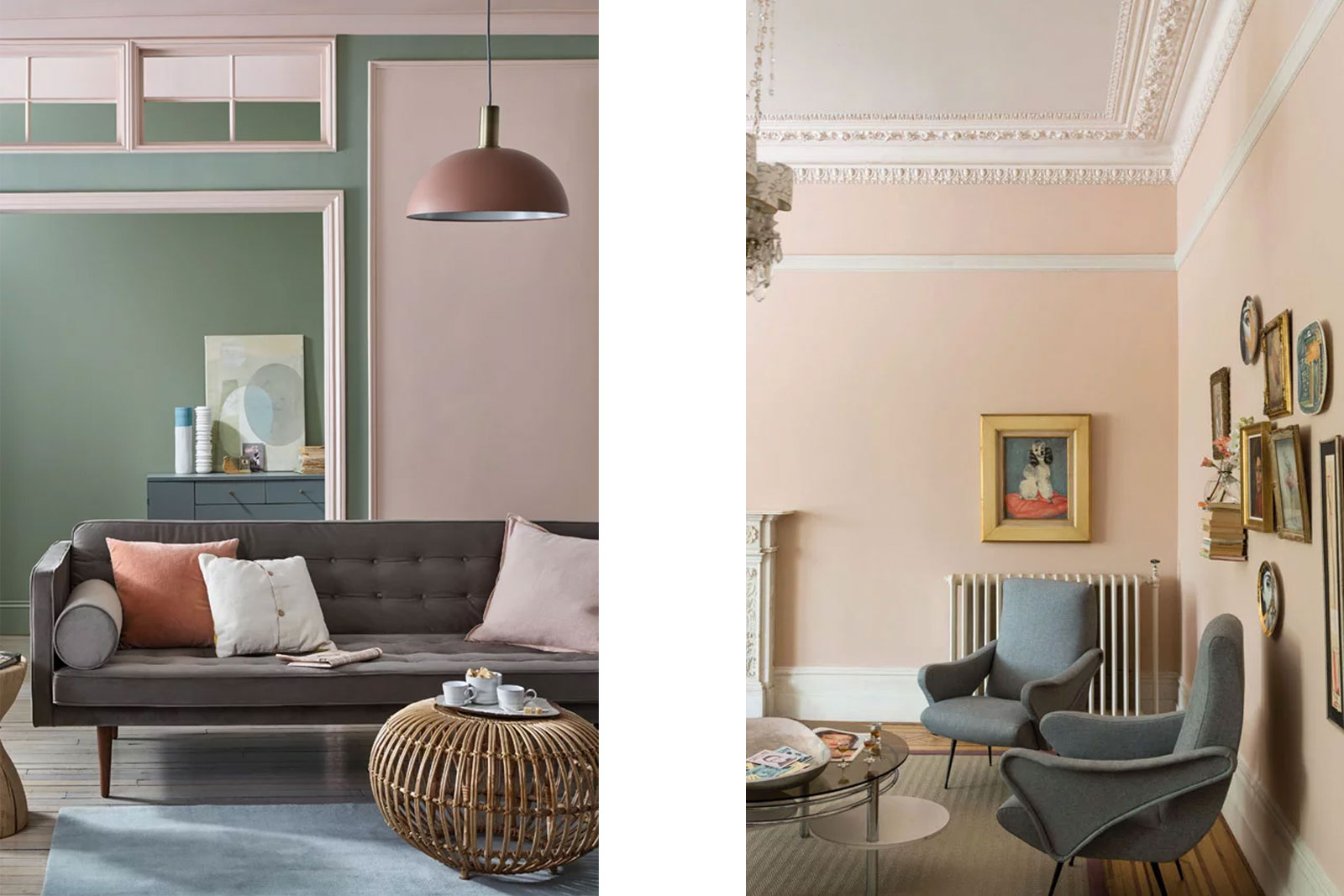 Easy Ways to Refresh your bedroom for 2020
A lick of paint goes a long way – it's also a really cheap way to change the overall look of your room. Don't worry about going bold – because if you really do hate how it looks – you can always paint over the top. We'd suggest using tester pots first though, as they really do help you to visualise what the colour will look like in the room.
Changing the way you make your bed can make such a huge difference to your bedroom too. As the largest item of furniture in your bedroom, what you cover it with is often what's seen first as you walk in. Just by simply changing the colour of the bedding, you will create a completely new look. Dressing the bed though makes the biggest difference. Perhaps right now, you just have a duvet and pillows. Why not try a runner and a couple of cushions. Or a bedspread with texture. Dressing your bed takes your bedroom from pretty standard to interior designer approved!
Rethink your bedside tables. This doesn't necessarily mean changing them, but perhaps just clearing or tidying them. I'm guessing what's on your bedside table right now – a book, a half finished glass of water, that tissue you used in the middle of the night, your jewellery, money that came straight from your pocket, and perhaps a charging phone. Although all of these things are needed, it doesn't exactly look pretty. Add a tray for the loose items, and perhaps put that tray on top of your book. Style them up for a new refreshed look for your bedroom.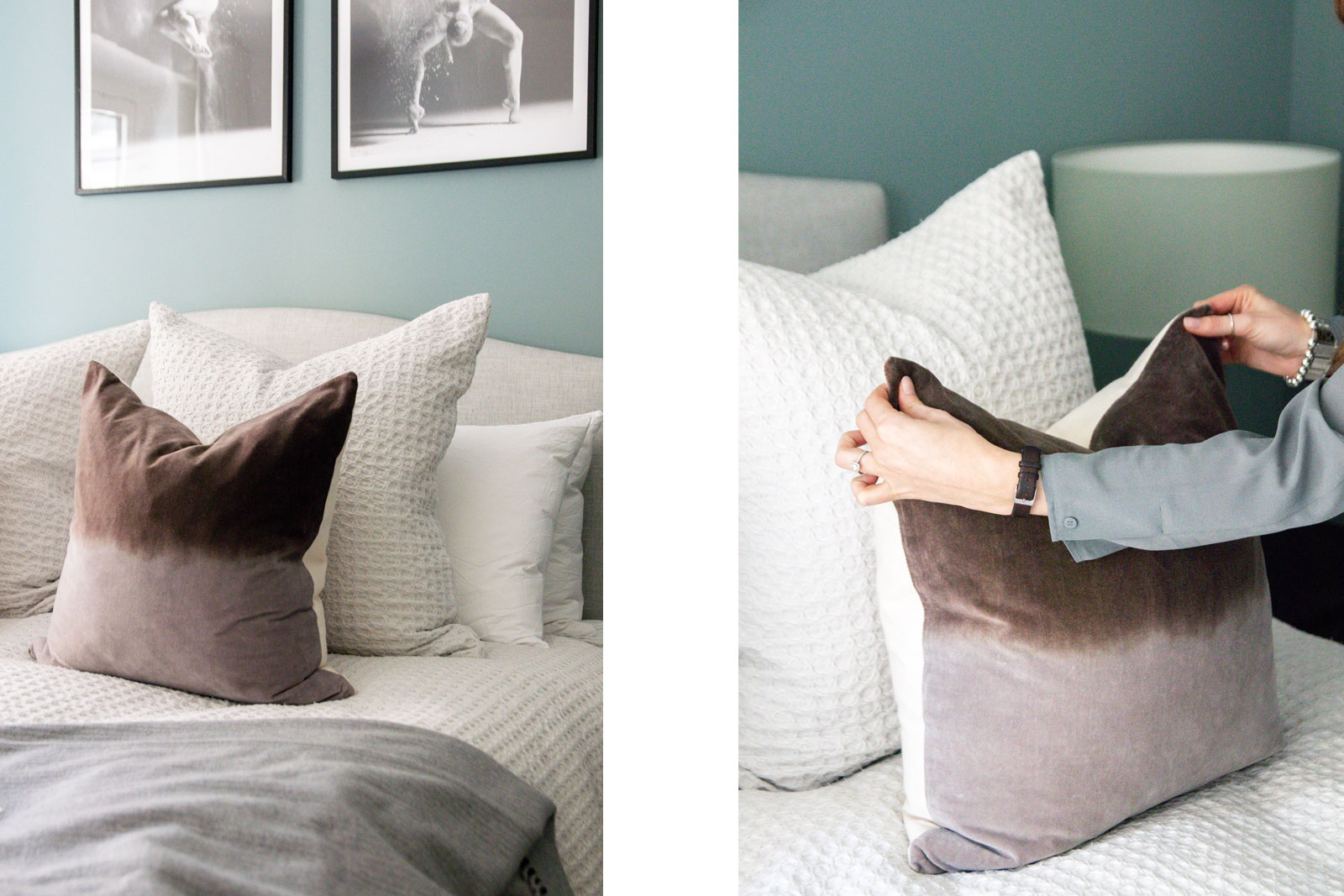 So how can we at Furl help you recreate these bedroom design trends in your home?
The number one style trend to watch out for is sustainability, and as we design and make everything we offer in the UK, we can help you to shop more sustainably this year. Our sofa beds and storage beds are made in Nottingham, and can be made in a number of recycled materials. Two of our favourites are Linwood's Recycled Leather and Kirkby's Recycled Wool made from salvaged yarns from the Fashion industry.
We've also got you covered on the pink front with our LOVELY new fabric, which is aptly named 'Lovely'. It's a beautiful printed velvet, which is just the perfect shade of pink for this year's bedroom design trends. Called Lovely Dusk, we can send out a free sample to you if you email us on hello@furl.co.uk. Or you can visit the showroom to see our Max bed that is currently made up in this favourite fabric of ours.
Wicker baskets, wicker trays, wicker chairs are a big thing right now. And everything wicker pairs beautifully with walnut. Our Air Storage Bed looks lovely in Walnut, and still gives you the storage you may so desperately need without having to compromise on looks.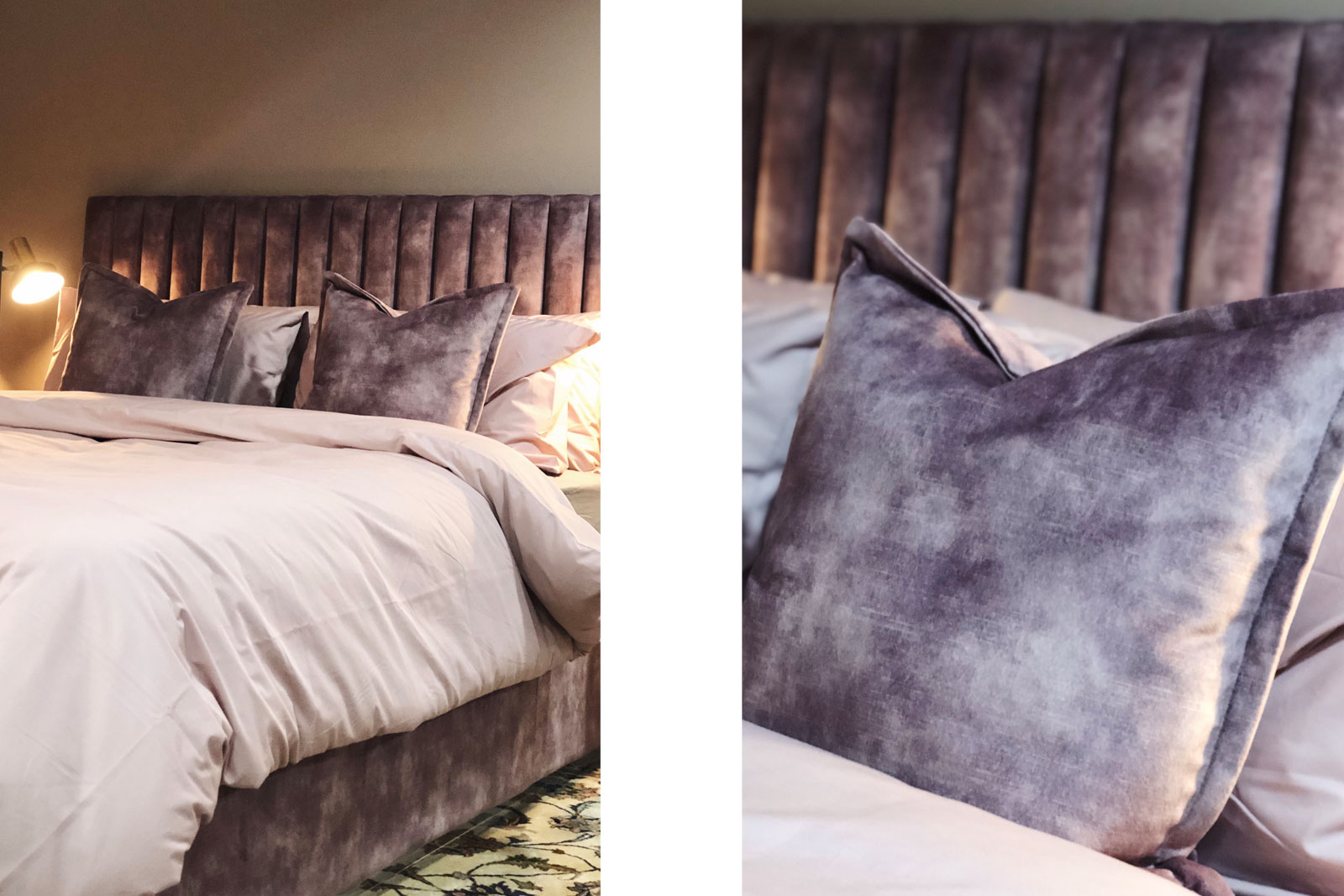 We're really impressed with this year's bedroom design trends and think that so many of them are brilliant. You might love them all too, and if you do, just remember to only select a few. Like the pink and green trend. Or pushing sustainability and keeping the design simple with a lovely piece of bespoke British made furniture. Going hard on the rattan, and introducing the right balance of wooden furniture and perhaps a couple of plants to also bring in the earthy trend. Not all of these trends work together, so it's just about getting that balance right when refreshing your bedroom design for 2020.