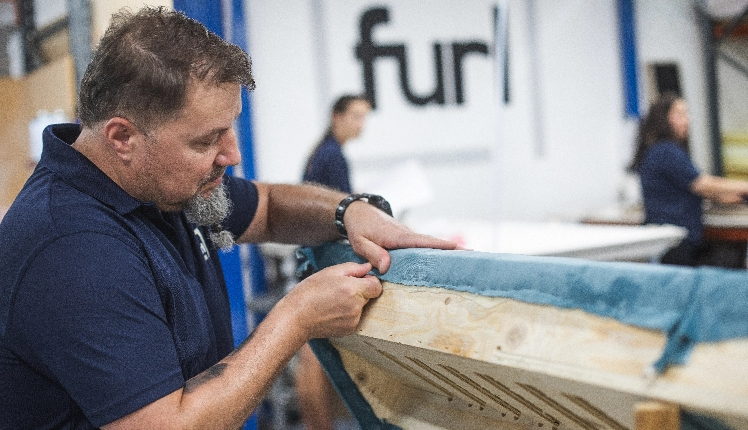 Our Workshops
Surrounded by fields and sheep, our Nottingham workshops are a charming place to work. Not far from Sherwood Forest (where Robin Hood once roamed, fighting injustice in early Medieval England), our purpose-built workshops offer a clean, well-organised facility for our entire manufacturing team.
Unlike other furniture makers and high street brands, we are 100% committed to UK manufacturing, and always will be, and have invested heavily in the latest machinery. This not only helps our team create the highest quality products but also minimises waste and our environmental impact.
We never compromise on quality. From the mechanisms to the fabrics, we offer the highest quality possible, and every piece of furniture we deliver comes with a no-quibble guarantee.
Furl also partners with other well-known British fabric companies to introduce new sustainable, eco-friendly (including Vegan and fabrics made from 100% recycled plastics) and design-led upholstery options to a more eco-conscious customer base. If you've got a distinct fabric or pattern in mind, we can apply that to your custom-made design or have it manufactured specially for you. We even sell naked beds (no fabric, choose it later!), so if you aren't sure what you want, that's not a problem either.
Furl is also working towards becoming B Corp certified as a way of measuring and demonstrating our commitment to society, sustainability , and our carbon footprint.
Creating jobs in the UK
Our team does an amazing job, and we couldn't do it without them. From our highly specialised upholsterers, sewing machinists, woodworkers, and paint professionals to our fantastic delivery team who work late nights and early mornings to deliver and assemble your order safely, it's the people behind the scenes who make Furl run like clockwork.
We are also extremely proud of our apprenticeship programme, where we get to nurture future generations and teach them skills that last a lifetime. In what was traditionally a male-dominated industry, we are delighted to have many female apprentices who are learning the art of woodworking and upholstery from people with 15+ years of experience in our workshops.