Latex 750 Mattress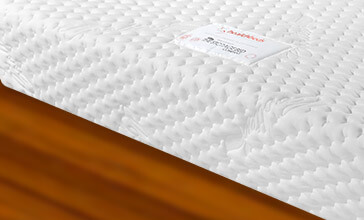 Mattress Features

Firmness

4

Depth

22cm
Latex mattresses have been around for 100s of years but recent advances in technology have improved them so much they're now firmly at the top of the list when it comes to natural sleeping materials.
Uniquely different
...In a good way. Our Latex mattresses use natural Talalay latex which has a unique open-cell, self ventilation structure. Latex has special temperature controlling properties that help the body to achieve a perfect sleeping temperature throughout the night. This combined with our unique, super-stretchy Tencel cover keeps you cool and fresh in a warmer environment and warm and cosy in cool temperatures.
Total support with 'bounce'
Natural Talalay Latex has superb elasticity which gives exceptional total body support whilst offering a responsive 'spring like' bounce to your bed.
Talalay Latex
Tencel Clima Cover
Non Turn
Naturally hypo allergenic
Medium feel
Latex Comfort 22.5 cm mattress has 75mm Talalay Latex and 15cm of Vita HD Reflex base Layer.
Made exclusively for us
All our mattresses are made to our own exacting specifications by Healthbeds, who have a strong reputation and long history in the industry. In fact they've been making high quality mattresses since 1893 when the Smeaton family started the business in Yorkshire. They've kept hold of their traditional roots yet moved with the times too and are now being run by the fourth generation of the family. Aside from the quality of their mattresses we love working with them because they're a company very much like us; they too offer high quality products and enjoy creating exactly what their customers want.
Sizes & Prices

£740 Single 90 x 190
£940 Small Double 120 x 190
£960 Double 135 x 190
£1160 Continental Double 140 x 200
£1160 King 150 x 200
£1290 Continental King 160 x 200
£1400 Super King 180 x 200
£1650 Emperor 200 x 200