Duo 1200 Mattress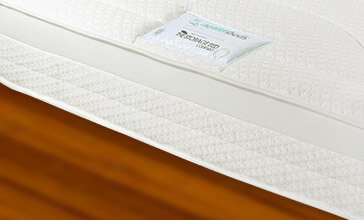 Mattress Features

Firmness

3

Depth

24cm

Springs

1200
We've created the perfect combination of pocket springs and memory foam to bring you a mattress that's nicely supportive and body moulding.
Enjoy the best of both worlds
1200 individually pocketed springs form the lower base of this mattress offering quality medium support. Our Cool-Mem memory foam has an invitingly sumptuous feel to the outer surface with a unique softness that feels amazing.
Cool-Mex Memory Foam and Springs
No Turn
Temperature-controlling fabric cover
Edge to edge Support
Side Border Ventilation
Bursting with innovations this mattress features Anti-Roll off technology that supports you right to the edge of the mattress, 3D side ventilation and our unique 37° Micro Climate fabric. Combine these features with our Cooltex® fillings offer a fresher healthier night's sleep.
Made exclusively for us
All our mattresses are made to our own exacting specifications by Healthbeds, who have a strong reputation and long history in the industry. In fact they've been making high quality mattresses since 1893 when the Smeaton family started the business in Yorkshire. They've kept hold of their traditional roots yet moved with the times too and are now being run by the fourth generation of the family. Aside from the quality of their mattresses we love working with them because they're a company very much like us; they too offer high quality products and enjoy creating exactly what their customers want.
Sizes & Prices

£500 Single 90 x 190
£630 Small Double 120 x 190
£660 Double 135 x 190
£720 Continental Double 140 x 200
£720 King 150 x 200
£770 Continental King 160 x 200
£850 Super King 180 x 200
£1100 Emperor 200 x 200